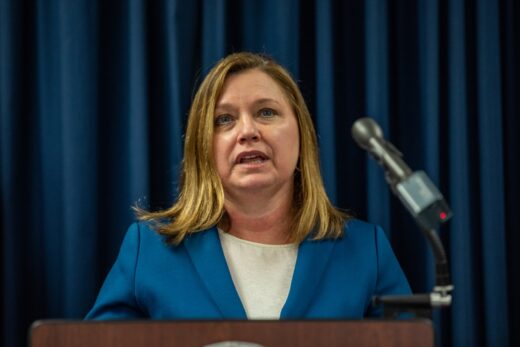 Former Bucks County District Attorney Michelle Henry is now officially the state's top law enforcement official.
On Wednesday, the Pennsylvania Senate confirmed Henry as Pennsylvania attorney general, filling the job left vacant when Josh Shapiro was sworn in as governor in mid-January.
"This is a powerful vote of confidence in our work and I am humbled to lead the dedicated team in the Office of Attorney General on behalf of every Pennsylvanian," Henry said in a statement. "Consumers, victims, and our partners in law enforcement now rely on the Office in record numbers, and with this vote, we can continue to be the independent, fearless, and trusted voice Pennsylvanians have come to expect. There will be big challenges over the next two years, and, as your Attorney General, I promise we will step up and always have Pennsylvanians' backs."
Shapiro, a Democrat, said in statement that he was happy with Henry's official appointment. He promoted her to the top job on an acting basis when he became governor.
"Michelle Henry has the experience, talent, and dedication to the pursuit of justice that Pennsylvania needs in the Attorney General's office – and that's why I nominated her to serve out the remainder of my term," said Shapiro. "By confirming her nomination, the Senate has guaranteed that Pennsylvanians have an Attorney General who will fight for them. I look forward to working with Attorney General Henry to build safer communities and protect the rights of Pennsylvanians."
Henry previously served as the first deputy attorney general since the start of Shapiro's time as the state's top law enforcement official. She oversaw all legal matters and cases and operations of the office as first deputy.
Henry worked her way from a line prosecutor to the top non-elected official at the Bucks County District Attorney's Office before being tapped to fill the top seat for a short period of time after former District Attorney Diane Gibbons became a Court of Common Pleas judge. She then returned to serving as first assistant through District Attorney David Heckler's term and the opening months of Bucks County District Attorney Matt Weintraub's time leading the office.
Weintraub told NewtownPANow.com in January that Henry was a "fearless" prosecutor who would "always take the most difficult cases."
While Henry was a top prosecutor in Bucks County, she was loaned to the Montgomery County District Attorney's office, along with prosecutor Antonetta Stancu, to assist in the case against against former Pennsylvania Attorney General Kathleen Kane, who was convicted and sentenced to prison.
Henry prosecuted homicide, child abuse, robbery, burglary, and drug cases during her 21 years working in Bucks County. She re-tried to conviction Richard Laird for first-degree murder after his original conviction and death sentence in a 1987 Bristol Township murder was overturned by a judge and she led the law enforcement community through the death of Middletown Township Police Department Detective Christopher Jones.
The new attorney general played a key role in the founding and development of the Children's Advocacy Center while she was the district attorney for Bucks County. The nonprofit organization collaborates with local law enforcement, victims' advocates, and medical facilities to look into and treat children who have experienced physical or sexual abuse. The main objective of the center is to lessen the trauma that kids experience when they interact with the legal system.
Henry is a native of Greensburg, Westmoreland County and graduate of Allegheny College and the Widener University School of Law.
Also on Wednesday, the Senate confirmed Christopher Paris as Pennsylvania State Police commissioner. The longtime trooper has been serving as the agency's acting leader since Shapiro appointed him in January.