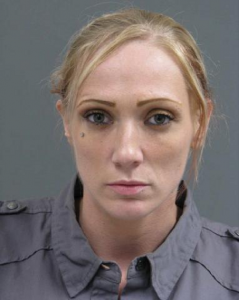 Life.
It's the amount of time that Jennifer Lynn Morrissey will spend behind bars for the murder of her on-again, off-again 64-year-old boyfriend inside his Upper Makefield home.
The 34-year-old mother and former stripper learned her fate of life without the possibility of parole Friday afternoon as she came before Bucks County Judge Raymond McHugh for sentencing following a jury finding her guilty of first-degree homicide, tampering with evidence, and possession of an instrument of crime in early February.
"Innocent people are no longer innocent because of you, because of your selfish, deliberate decision to kill Michael McNew," McHugh told Morrissey. "What you have done to yourself you have earned."
At trial, prosecutors said that Morrissey murdered pharmaceutical sales manager McNew with a single bullet between the eyes inside his 2,700-square-foot home at 1050 River Road in the Washington Crossing section of Upper Makefield in August 2017. They said Morrissey, who worked as a mechanic at a Middletown motorcycle shop, tried to make the killing of McNew look like a botched robbery after it happened with help from a shady figure with gang affiliations.
Morrissey's attorney said at trial that McNew was manipulative and his client had only acted to defend herself.
An "accident" was to blame for McNew's shooting death, Morrissey testified at trial, failing to admit to pulling the trigger.
The .380 caliber handgun that fired the slug into McNew's head was never recovered, despite a search of the river near McNew's house. Prosecutors said bullets in the 64-year-old man's house appear to match the one used in the killing.
McNew's coworker and her adult daughter found the sales manager dead in a chair after she was dispatched by their employer to check on him after two days of silence.
Morrissey and McNew dated for a bit more than five years and seemed to have a somewhat rocky relationship. The two met while she was working as a stripper in Bristol Township. McNew has been described as Morrissey's "sugar daddy."
McNew had financially supported Morrissey over their relationship, including through drug addiction and trouble with the law.
McNew was divorced and had two adult children, and Morrissey has an elementary school-aged son from a previous relationship.