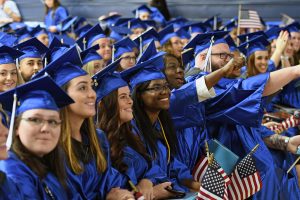 Students at Bucks County Community College won't be returning to the classroom this semester.
The community college, which has campuses in Bristol Township, Newtown Township, and Perkasie, announced Wednesday that remote learning and operations will continue through the end of the spring semester.
The community college said the annual commencement will take place remotely online on May 28. More details will be announced later.
Classes and community college operations have been remote since mid-March as the COVID-19 pandemic spread.
On Thursday, the Bucks County Community College Board of Trustees met and agreed unanimously to keep tuition for the 2020-2021 academic year at $165 a credit for Bucks County residents, $330 a credit for Pennsylvanians who live outside of Bucks, and $495 a credit for out-of-state residents. Tuition fees will also remain the same.
A Bucks County student who take a total of 12 credits a semester will pay about $4,898 in tuition and fees.
"Amid these uncertain times, Bucks County Community College is committed to providing accessible, affordable opportunities that allow our students to thrive," Dr. Stephanie Shanblatt, the community college president, said. "We hope that keeping tuition stable will be one small way of easing the burden many have undergone recently."
"The trustees agreed that by not raising tuition next year, we could continue our unwavering support for our community," said Elizabeth Fineberg, chair of the trustees. "We remain steadfast in our commitment to keep higher education affordable for our current and future students, despite the challenges we have faced this spring."