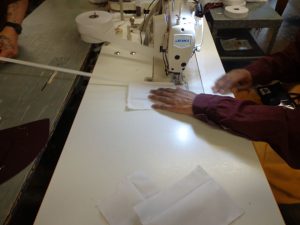 Pennsylvania inmates have begun making needed supplies for use by prison employees and inmates during the COVID-19 pandemic.
Inmates working for Pennsylvania Correctional Industries, which operates state-run factories that sell goods to nonprofits and government agencies, have been producing cloth masks, antibacterial soap, disinfectant, and personal protective medical gowns.
"As part of the Department of Corrections preparedness planning, in mid-March, I directed all of our employees and inmates to wear masks," said Pennsylvania Department of Corrections Secretary John Wetzel. "We didn't want to take from the community supply, so we began making the masks in-house at several of our state prisons."
The masks have been supplied to all Pennsylvania Department of Corrections facilities and offices and to parole agents and parole supervision staff. Additionally, inmates have been provided two masks each.
Starting last week, masks made by inmates will also be provided to state workers in other departments.
As of mid-week, inmates made 185,136 masks, 36,000 bars of antibacterial soap, 255 gowns, and 1,620 packs of disinfectant.
Pennsylvania Correctional Industries has inmates working 12-hour shifts, six days a week.