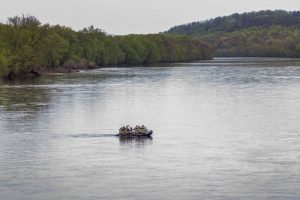 The mighty Delaware River has been named the 2020 River of the Year.
The accolade came in a report from American Rivers, a group that advocates for rivers and river basins and their important roles.
"The Delaware River is a national success story," said Bob Irvin, president and CEO of American Rivers. "The River of the Year honor recognizes the hard work of many local advocates who understand that a healthy Delaware River is vital to the health of millions of people."
The report provides the following description of the river:
The Delaware River flows nearly 400 miles from the Catskill Mountains to Delaware Bay, with its mainstem forming the longest free-flowing river east of the Mississippi. It drains more than 14,000 square miles of land that includes portions of New York, New Jersey, Pennsylvania, Delaware and Maryland. From cool springs, forests and wetlands in its headwaters, the Delaware River flows through farmland and towns, including Port Jervis and New Hope. The tidal portion of the river begins at Trenton and the river winds through the urban centers of Philadelphia, Camden, Wilmington and Dover before meeting the Atlantic in Delaware Bay.

The Delaware River watershed provides drinking water to two of the five largest cities in the United States — New York and Philadelphia — and is home to one of the largest freshwater ports in the world. The watershed contributes $22.5 billion per year to the economy from recreation, hunting and fishing, water quality and supply, ecotourism, agriculture, open space and its busy port.

With diverse and high-quality habitats, the watershed supports native fish species, including American shad, river herring, American eel, striped bass and brook trout. It is also home to numerous protected species, such as the federally endangered dwarf wedge mussel and bog turtle, as well as beaver, muskrat, otter, black bear, bald eagle and osprey.

The Lenape people have called the river home for thousands of years. Before it was called Delaware, the river was Lenape Wihittuck, which means "river of the Lenape." The Delaware also figures prominently in American history. On Christmas night in 1776, during the American Revolution, George Washington and more than 2,000 soldiers crossed the river from Pennsylvania to New Jersey, surprising British troops at Trenton. The river's abundant shad runs helped feed Washington's Continental Army.
The report notes four factors that have led to success along the river: enforcing clean water safeguards, prioritizing innovation and equity, ensuring adequate water supplies, and protecting a free-flowing river.
The Delaware River provides drinking water for 15 million people, including throughout much of Bucks County. It also contributes billions to the region's economy.
Seventy five years ago, the river was known for being polluted and filled with sewage that was unable to allow fish and other aquatic life to live.
"The Delaware shows how a healthy river can be an engine for thriving communities," Irvin said.