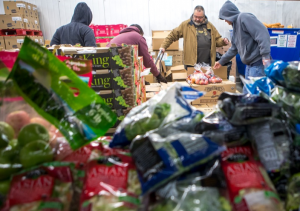 A number of local food pantries will receive aid through the Bucks County COVID-19 Recovery Fund.
In the seventh round of grants since the fund was established in mid-March by the United Way of Bucks County with additional funding from Penn Community Bank, the Bucks County Opportunity Council was awarded $25,000 to help aid local food pantries that are struggling to keep up with the increased demand for food assistance. The funding will be distributed among 12 food pantries county-wide, with each pantry receiving $2,000 in flexible funding for the purchase of food. This will include meats and dairy products that will be distributed to individuals and families who are seeking help with food insecurity. Bucks County Opportunity Council will also use $1,000 to purchase 1,000 dozen eggs, the most requested item by pantries, to be distributed each week.
The 12 food pantries include: Bux-Mont Christian Church, Calvary Baptist Church, Cares Cupboard, Community Baptist, Coordinating Council of Health & Welfare, Interfaith Food Alliance, Langhorne Terrace, Living Hope Community Church, Mary's Cupboard, Redeemer Lutheran, St. Matthew Methodist, and The Food Center at Morrisville Presbyterian.
"Bucks County Opportunity Council is thankful for this grant from United Way of Bucks County, as it will allow twelve of our pantry partners to purchase much needed food. Each of the twelve pantries has been identified as a pantry with high volume, struggling to meet the demands COVID-19 has placed on their resources. This grant will help to fill the shelves and get food quickly to the homes of families in need," said Bucks County Opportunity Council Executive Director Erin Lukoss.
The Bucks County COVID-19 Recovery Fund has granted $148,000 to 21 local nonprofits serving people impacted by the pandemic since March. The fund is geared to helping groups whose programs focus on life-sustaining and essential human services.
Penn Community Bank, Dow, BB&T now Truist, Janssen, PECO, Foundations Community Partnership, Bucks County Foundation, Hallett Charitable Foundation, Barra Foundation, Grundy Foundation, Fegley Law Firm, Shoprite of Hunterdon County, Vistra Energy, Wells Fargo, Bucks County Chapter of Jack and Jill of America Inc., and the Residents of Ann's Choice have supported the fund. In addition, more than 450 individual, local donors have contributed to the effort.
Donations can be made online or by mailing a check to United Way of Bucks County, 413 Hood Boulevard, Fairless Hills, PA 19030, with "COVID Recovery" in the memo line.
Editor's Note: Publisher Tom Sofield is a member of the United Way of Bucks County Board of Directors.