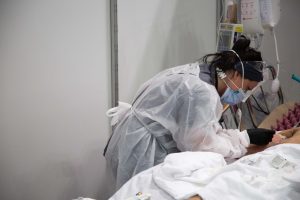 Bucks County saw its smallest number of new COVID-19 cases in two months, officials reported Thursday night.
The county health department said there were 19 new infections and six deaths reported. The number of new cases marks the lowest one-day total since March 26.
Of the 19 cases reported, seven were residents of long-term care facilities, three were due to community spread, one came from a household contact, one person is a county prison inmate, and one came from a healthcare setting. The remainder of people were unable to be reached by contact tracers on Thursday.
"What we're seeing now is a very low baseline of community spread," said Health Department Director Dr. David Damsker. "I don't want anyone thinking that coronavirus is going to disappear overnight; it doesn't work like that. But we know that the overall baseline community spread has come down and leveled off at a very low rate, and we're hoping to keep it that way."
The six people who died were all over the age of 65. Of the six, four lived in long-term care centers and had underlying conditions.
Since the pandemic began, the county has counted 4,714 confirmed cases, 451 deaths, and 1,532 recoveries.
Damsker said during a Thursday virtual press conference that about 500 Bucks Countians have been tested for COVID-19. He added that demand for testing has decreased recently.
"We certainly have the capacity to do any testing that is necessary, certainly for symptomatic people," he said.
A total of 97 Bucks Countians with COVID-19 were in local hospitals as of Thursday night and 20 were on ventilators and in critical condition.