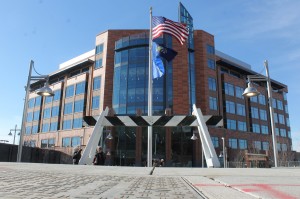 Bucks County President Judge Wallace Bateman signed an order Monday extending the judicial emergency until May 31.
The emergency order signed by the president judge states that there will be no jury trials before Monday, August 3, jurors will not have to report prior to August 3, all upcoming civil and criminal jury trials and arbitrations will have to be rescheduled after May 31, and landlord-tenant hearings will be delayed until after May 31.
While orders of possession resulting from judgements entered in landlord-tenant actions may be filed, execution of any such orders will be delayed until after May 31.
For Common Pleas Court preliminary hearings and if all parties agree, hearings can be held using teleconferencing or video conferencing, which the court terms "advanced communication technology."
A number of emergency court actions and filings are still possible during the judicial emergency. Judges and court staff are still working on a rotating basis.
The district courts fall under the order and have most functions halted until after May 31.
Execution of eviction notices at the district court level has been stayed until after May 31.As the COVID-19 pandemic grew, Bateman issued his first emergency order related to the courts on March 17 and another one in early April. The last emergency order that paused most regular court functions was slated to end in mid-May.